Storage Site
The Australian Growers Direct (AGD) storage site is located 3km east of Balaklava on the Auburn Balaklava Rd. The site comprises a full 30m weighbridge, sampling platform, sampling hut, upright silos of various sizes, bulk sheds, bunkers and silo bags. The range of storage facilities at the site allows AGD to open segregations to suit a clients needs or as the season dictates. The segregations could vary in sizes from 100mt to 2000mt or more depending on the needs of the client.

Upright Silo Storage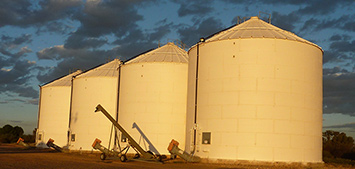 The site has 1100mt and 110mt fully sealed silo's with the latest automated aeration controlled units, which allows for effective pest free grain storage in a contained environment. Receival into the silo storage is via swing away augurs for cereals or tubulators for pulse crops.
Grain sheds
The site has several grain sheds of various capacities.
Silo Bags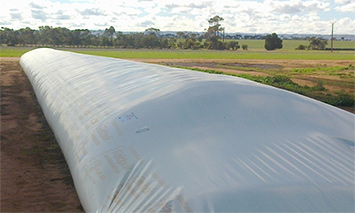 Silo bags are an effective method storing many types of grain in small segregations providing growers, marketers and end users the benefits of preserving the identify of specific grain qualities or varieties . AGD has been able to draw on many years of experience to effectively use the silo bags to their optimum efficiency.
Weighbridge
A 30m fully electrionic weighbridge at the site allows AGD to measure all grain moved in and out of the site without having to split weigh B-double or truck and trailer combinations.
Sampling
AGD test all receivals and outturns using industry compliant and calibrated sampling equipment and screens.  AGD adhere to GTA approved procedures and protocols when sampling product and have fully trained site staff who are experienced with grain testing.
Fumigation
AGD is equipped to cater for clients fumigation needs either on site or off site. AGD employs the latest pest control strategies.